Voi safari Lodge
Voi Safari Lodge is a strategically situated safari lodge, in one of the world's largest game parks – the Tsavo National Park – Voi Safari Lodge stands high above the town of Voi overlooking a vast expanse of the African bush. It is 160km from Mombasa city. You can simply watch the herds of wild animals roam beneath you or you can get closer by a network of access roads reaching into many corners of this 11,666 square kilometre park. From the Lodge, you can look out onto the three water holes and see the ever-changing panorama of Africa unfold right before your eyes and at the same time enjoy the luxury of waiters' service. There is a special 'HIDE' for the camera enthusiasts affording close-up and candid pictures of the wild animals which do not suspect any human presence. This is an ideal spot from which to go out in search of the 'BIG FIVE' – Elephant, Lion, Buffalo, Leopard and Rhino. From Voi you have speedy and easy access to either the Tsavo East or Tsavo West portions of this park.
Ashnil Aruba Lodge
Ashnil Aruba Lodge lies in the heart of Tsavo East National Park. The lodge comprises 46 deluxe ensuite guest rooms and 6 luxury tents. The lodge is situated on the shaded northern bank of the Voi River looking across the famous Aruba Dam. The Aruba Dam is one of the most notable landmarks in Tsavo East being a huge reservoir that is a major attraction for many animals and a rich bird life; there are over 200 bird species at Aruba. For those who love bird watching, our resident naturalist will take you on a guided tour through the park to learn the various bird species.
Tsavo Sentrim
Sentrim Tsavo East is located in Tsavo East National Park. The Camp is 345 kilometers from Nairobi, 11km from Voi Gate, 40 kilometers from the Buchuma Gate and approximately 2 hours drive from Mombasa. Malindi is a mere 167 kilometers through the park. The camp features a Restaurant, Bar, Fire Place, Pool Bar and Swimming Pool. It has 25 guest rooms equipped with Private hot shower, In-room safe deposit box, solar power and coffee making facilities. Recreation activities e.g. Guided nature walks and game drives.
Ngutuni Lodge
Ngutuni Lodge is a rustic safari lodge located in the heart of a 10,000 acre private game sanctuary, surrounded on three sides by Tsavo East National Park. The lodge overlooks a waterhole and is set against the spectacular backdrop of the Sagala Hills. The lodge is located 15 minutes from Tsavo East main gate and 1hr from Tsavo West and Taita Hills.

Spectacularly constructed from large timber poles, with plunging thatched roofs and waxed timber decking, the lodge skillfully blends traditional African design with modern comforts. The waterhole attracts animals throughout the day & night. Soft illumination means guests can enjoy watching animals through the night from the privacy of your balcony or during the daytime from the open plan bar & restaurant deck.

The lodge has 48 rooms built of blocks all facing the waterhole and the endless savannah of Tsavo National Park. All rooms are fully furnished with a bathroom, shower, one double and one single bed each and balcony

Facilities include dining, bar, lounge and viewing deck.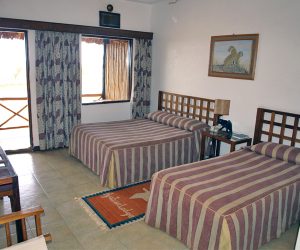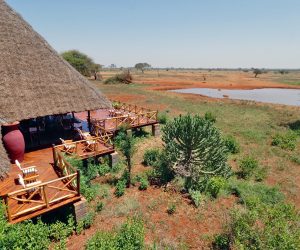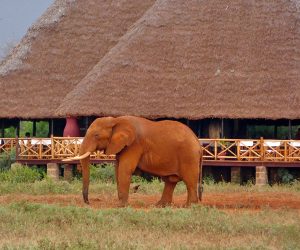 Saltlick safari Lodge
For decades Salt Lick Safari Lodge has been one of Kenya's flagship lodges, famed for being among the World's Most Photographed Lodges. A favourite amongst travellers in search of luxury accommodation, Salt Lick Safari Lodge is a luxurious safari escape set in the heart of the Taita Hills Wildlife Sanctuary overlooking a waterhole and the vast Tsavo plains.

Salt Lick Safari Lodge's charm is evident from the outset. Here you will savour uncompromising high standards of service, efficiency and personalised attention.

The neighbouring Taita Hills Safari Resort & Spa has a museum that displays some of the World War 1 memorabilia as part of the rich history of Taita Taveta County.

Salt Lick Safari Lodge has 96 unique rooms, all elevated on stilts and built across two levels, with ensuite bathrooms with permanent showers and WC, and running hot and cold water. We can accommodate you in these rooms at three levels with double, twin or triple beds depending on your preferred occupancy.
Ziwani tented camp
Voyager Ziwani offers uniquely personal and adventurous safari experience, situated in the shadow of Mount Kilimanjaro, on the edge of one of Kenya's least explored parks.Located on 30,000-acre private farm on the western edge of Tsavo West National Park, Voyager Ziwani sits on the edge of a small secluded dam on the Sante River. The camp's environs are home to hundreds of basking hippos, while a short drive will deposit you among the big game of one of Kenya's wildest national parks.